Soneva Jani Maldives- Experience & Enjoy the Luxurious Soneva Jani Overwater Villa Stay
Soneva Jani in the Maldives is a true masterpiece of natural beauty and luxury. This stunning resort features overwater villas that stretch out over the turquoise lagoon, giving guests unparalleled access to the crystal-clear waters below. With its powder-soft white sand beaches, world-class dining options, and unparalleled service, Soneva Jani is the perfect destination for those looking to escape the stresses of daily life and indulge in the ultimate luxury experience. From the moment you step foot on the island, you'll be transported to a world of tranquility and beauty that you'll never forget. So, whether you're looking to relax, explore, or simply soak up the sun, Soneva Jani is the perfect destination for your next tropical adventure.
So here is a review on this extremely luxurious Soneva Jani in the Maldives to help you decide and inform you, about what to expect from your potential stay there. The description of the resort's beauty and luxury and the range of activities available for both relaxation and adventure that it offers. 
So sit back, relax, and let us take you on a journey to one of the most stunning destinations on the planet.
Explore the Amazing Location & Views of Soneva Jani
Nestled within the Noonu Atoll of the Maldives Soneva Jani lies a destination that's nothing short of magical. This luxurious resort is situated on the breathtakingly beautiful Medhufaru Island and features 51 over water villas, and two jetties named as Chapter One and Two, surrounded by a vast, turquoise lagoon that stretches out as far as the eye can see.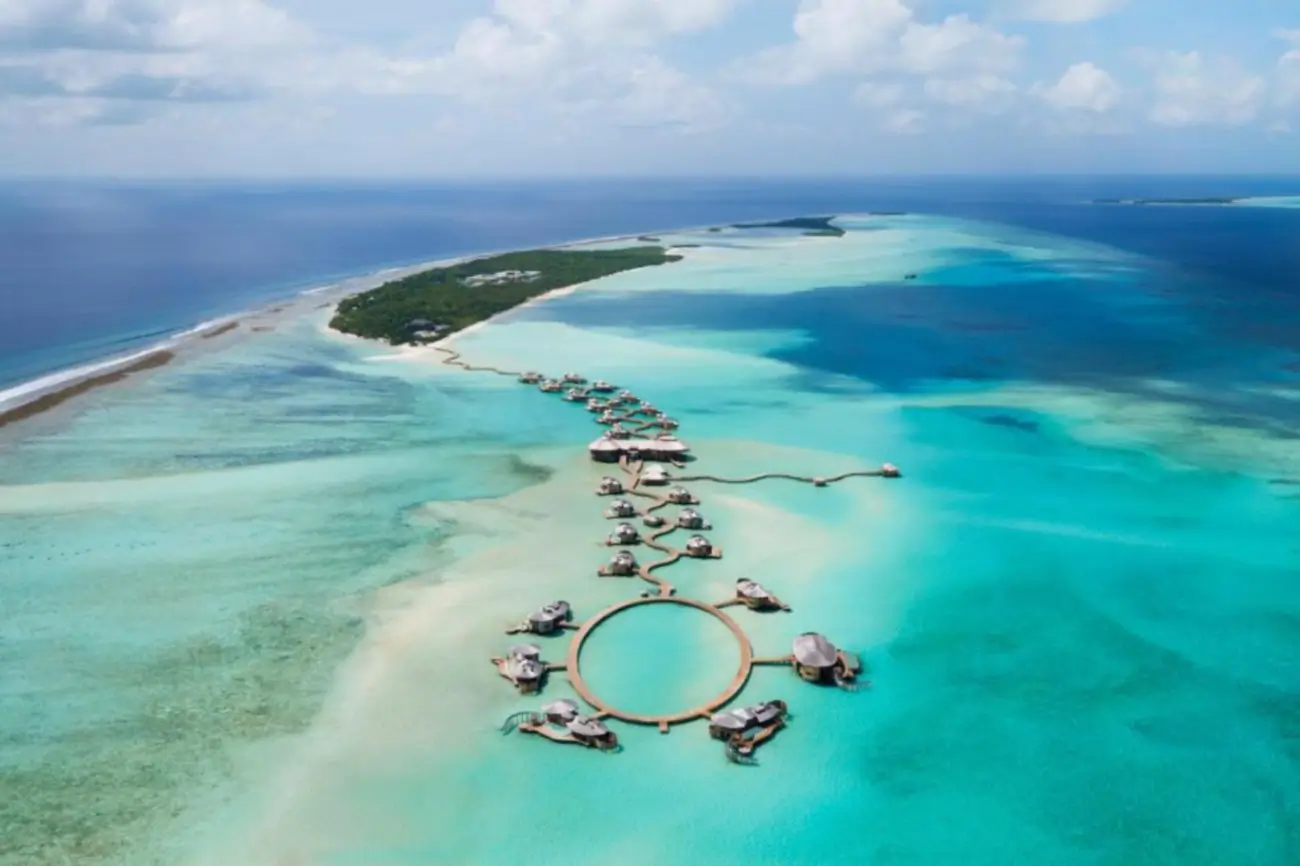 The views here are truly out of this world – from your Soneva Jani overwater villa, you'll be treated to panoramic vistas of sparkling waters and vibrant coral reefs teeming with marine life. Whether you're lounging on the pristine white sand beaches or exploring the crystal-clear lagoon, the views at Soneva Jani are nothing short of spectacular. 
How to get to the Soneva Jani Maldives and What to expect?
Book your tickets and reach Male International Airport. For an exclusive and luxurious experience, charter a private seaplane, yacht, or helicopter to Soneva Jani's private jetty, avoiding any queues or delays and enjoying the ultimate VIP treatment. 
Once you reach the Male international Airport,you will be welcomed by the most gracious and welcoming Soneva airport staff members, who assists you and take charge from now onwards. You will be transferred to the sea-plane terminal, awaiting for you the Soneva Seaplanes that are luxurious and pleasant to the eyes due to its beautiful interior. So, embark on a scenic seaplane journey from Malé International Airport and marvel at the stunning aerial views of the Maldives' turquoise lagoons and coral reefs before landing on Maldives Soneva Jani's international Airport. It is followed by a short speedboat ride to Soneva Jani, offering a glimpse of the Maldives' local culture and way of life.Or you can Take a scenic helicopter ride from Malé International Airport to Soneva Jani, providing a breathtaking bird's eye view of the Maldives' stunning archipelago.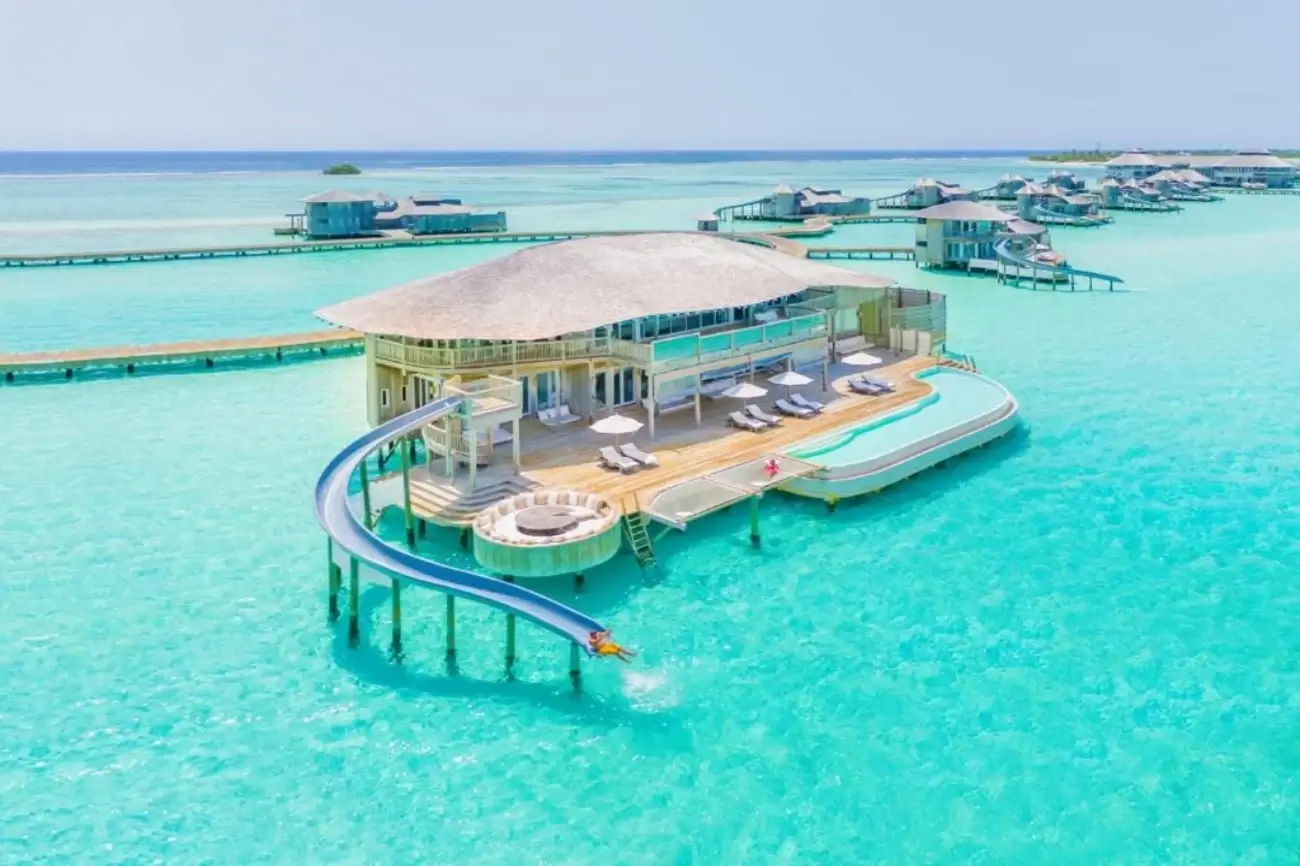 The resort has implemented a "no shoes" policy to create a cozy and relaxing atmosphere and to help guests feel more connected to nature. Additionally, each guest is assigned a personal butler who will provide assistance throughout their stay. The level of hospitality and service provided is truly exceptional and cannot be surpassed.
Have a Luxurious environment at Soneva Jani
At Soneva Jani outer water villa, luxury and sustainability go hand in hand, creating a truly unique and unforgettable experience. The resort's overwater villas are a testament to this philosophy, boasting elegant interiors made with locally-sourced and upcycled materials that blend seamlessly into the stunning natural environment.
The resort offers a variety of villas, including 51 over-water villas and few beach villas, ranging from one to four bedrooms to accommodate couples and families. The villas are generously sized and feature a master bedroom with a retractable roof with sensory rain detectors and auto closer, a small kitchenette, a walk-in closet, separate and comfortable spaces for children, and some areas with glass flooring to provide a better view of nature and the underwater world. Each villa also comes with its own private pool and a curved slide leading to the lagoon.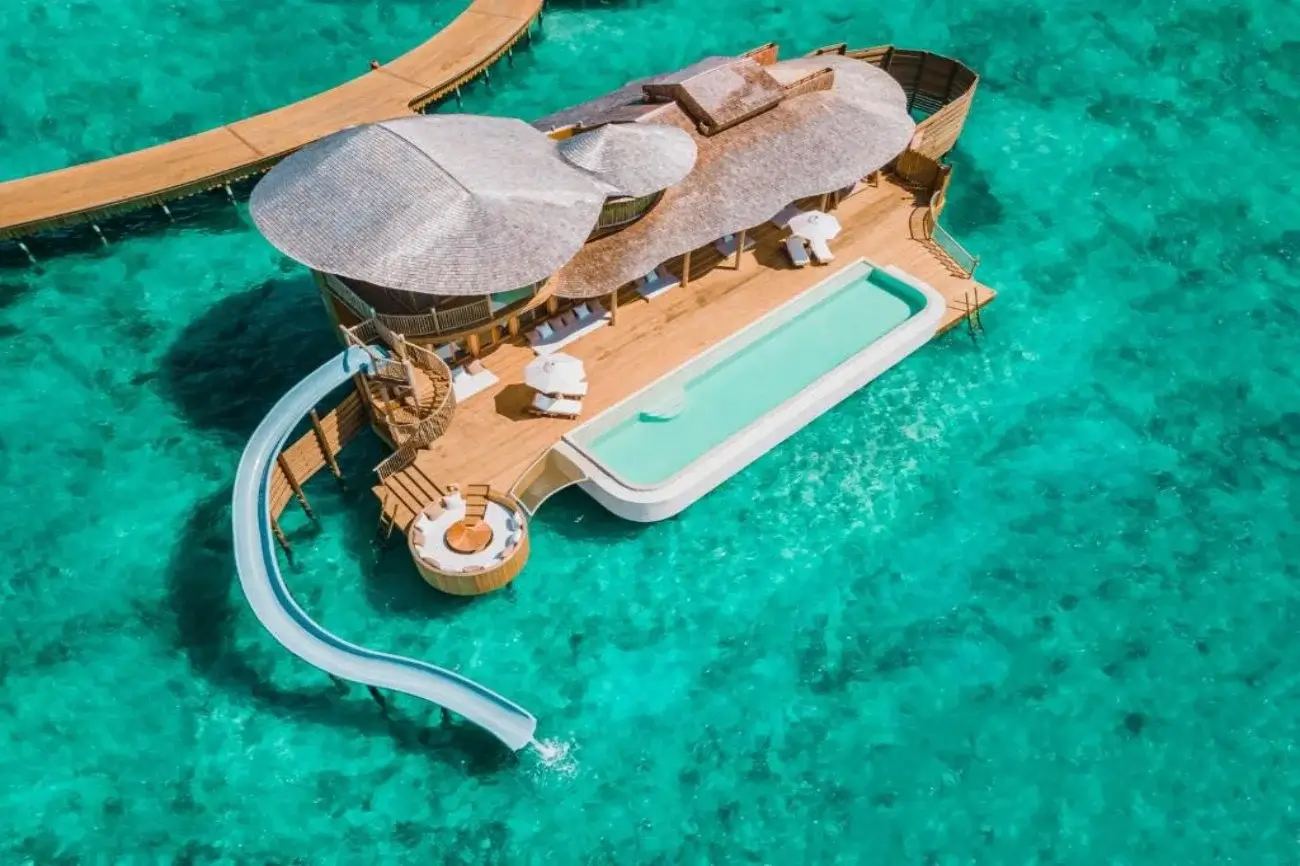 From the moment you step into your villa, you'll be surrounded by comfort and serenity, with each room offering sweeping views of the turquoise lagoon or the lush island greenery. Whether you're lounging on your private deck, taking a dip in your pool, or enjoying a sumptuous meal prepared by your chef, you'll feel completely immersed in the beauty of your surroundings.
But it's not just the rooms that make Maldives such a special place.The Lagoon is one of the most fascinating that you have ever seen. The lagoon at Soneva Jani Resort Maldives is a stunning natural attraction that spans an impressive 5.6 kilometers in length and 1.5 kilometers in width. The lagoon is also quite deep, with depths ranging from 12 to 20 meters in some areas. The water is crystal clear, allowing guests to easily observe the diverse marine life that inhabits the lagoon.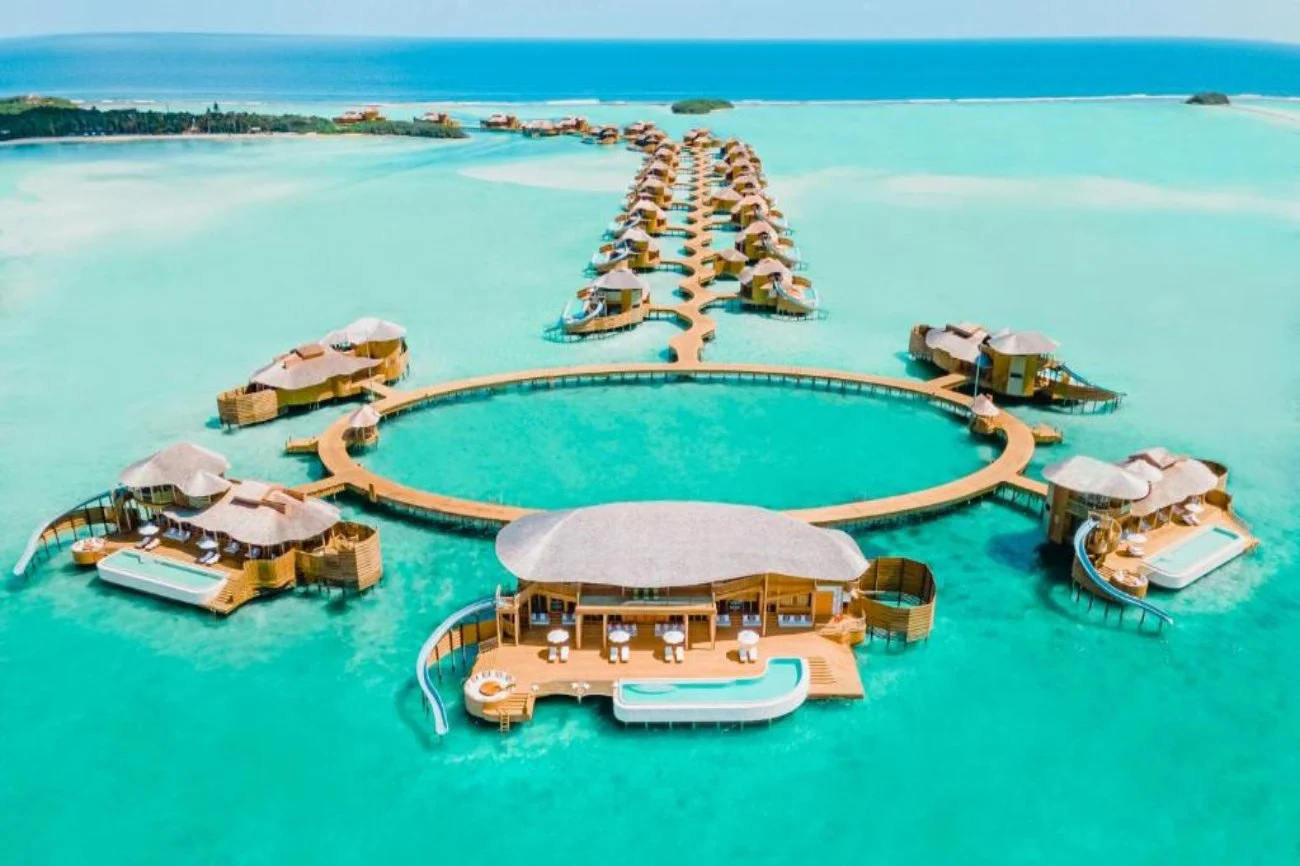 The resort has also taken measures to preserve the lagoon's delicate ecosystem, such as implementing a coral propagation program and a marine biology research center. The lagoon is perfect for a range of activities, including swimming, snorkeling, diving, and paddleboarding
What are the Facilities for you at Soneva Jani?
At Soneva Jani outer water villa, the attention to detail and commitment to excellence is evident in every aspect of the resort's services and facilities. The staff is dedicated to ensuring that every guest has a truly unforgettable experience, with personalized service and a range of bespoke activities and experiences tailored to your every need.
The Soneva Jani Maldives resort boasts a range of world-class facilities, including a stunning overwater cinema, an observatory where guests can stargaze with an astronomer, and a fully-equipped fitness center and Yoga centre. There is also a range of dining options available, from the gourmet cuisine of the resort's signature restaurant to intimate beachside dinners under the stars.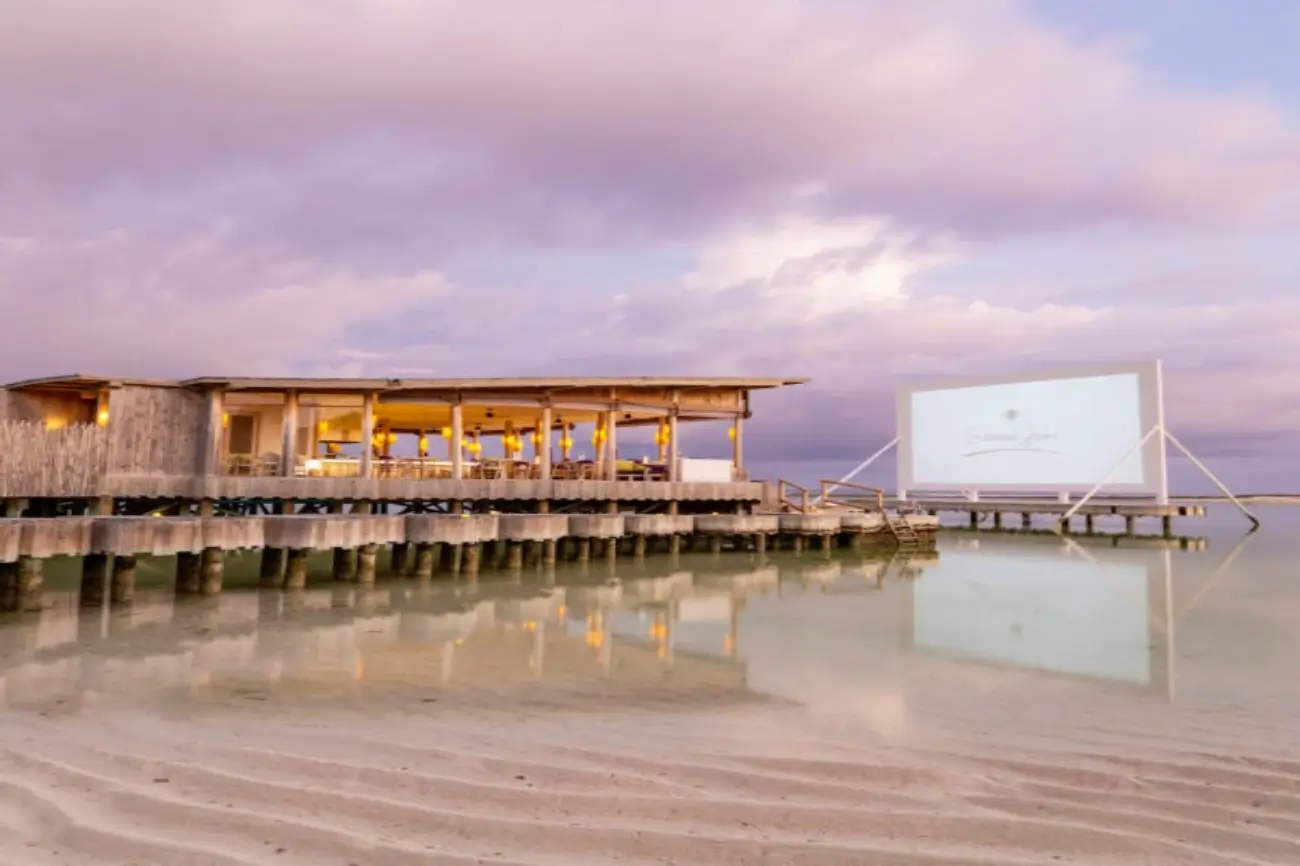 For those looking to unwind and indulge in the ultimate relaxation experience, the resort's award-winning spa offers a range of treatments designed to soothe the mind, body, and soul. And for those looking for adventure, there is a range of activities available, from snorkeling and diving to dolphin cruises and island-hopping excursions.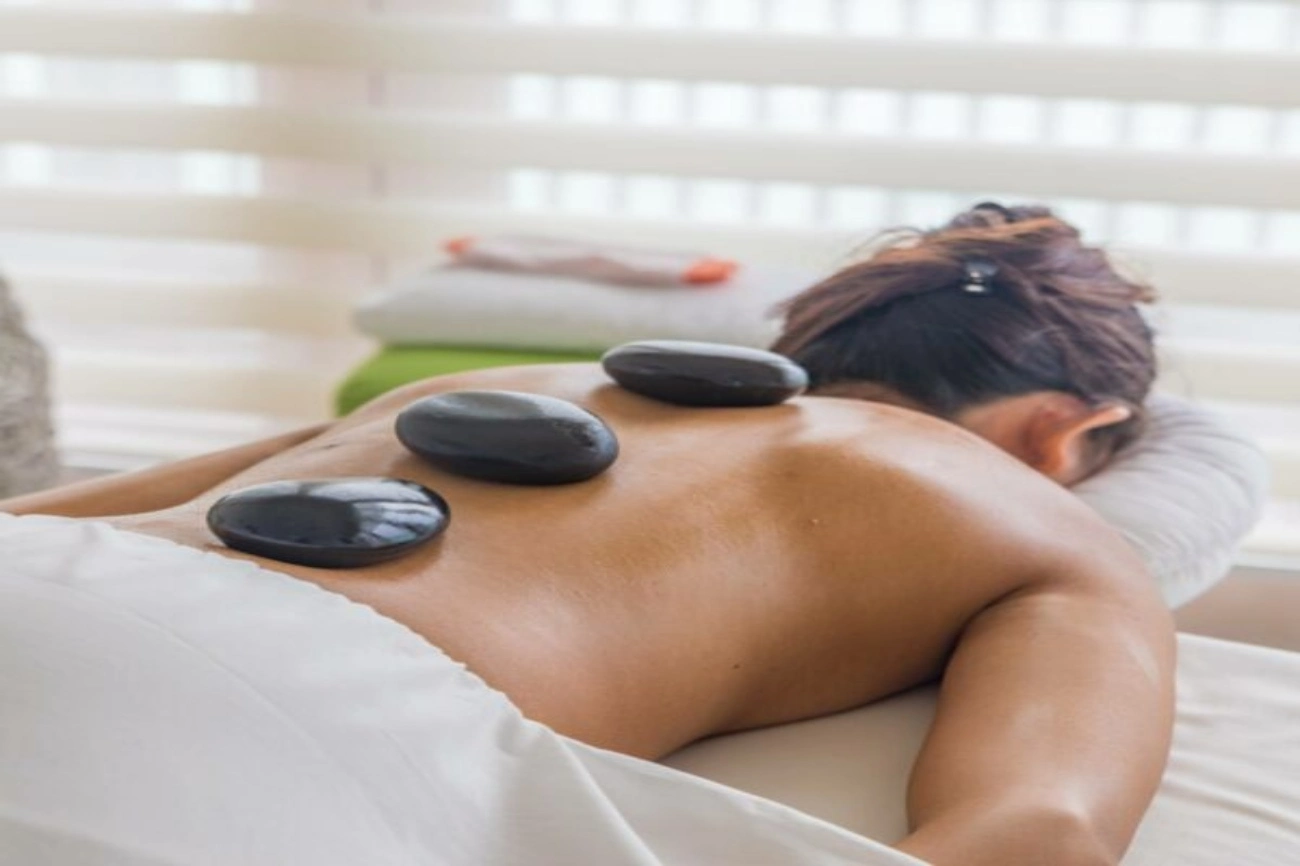 At Soneva Jani Maldives Resort, everything has been carefully crafted to create the ultimate luxury experience, with a focus on sustainability and a deep respect for the natural environment.
Food varieties on the amazing Island of Soneva Jani Maldives
At Soneva Jani Maldives resort, dining is not just a culinary experience, it's a journey of the senses. Whether you're indulging in a delicious breakfast spread or savoring a leisurely lunch on the beach, every meal at this tropical paradise is an opportunity to delight in the flavors of the Maldives Soneva Jani.
For breakfast, the resort offers a range of options, from a traditional Maldivian breakfast to a sumptuous international buffet. Guests can start their day with freshly baked pastries, exotic fruits, and a range of hot and cold dishes, all prepared with the freshest, locally sourced ingredients.
At lunchtime, guests can take their pick from a range of mouthwatering options, from light salads and sandwiches to fresh seafood and grilled meats. And for those looking to indulge, there are decadent desserts and tropical cocktails on offer, all served against the stunning backdrop of the turquoise lagoon.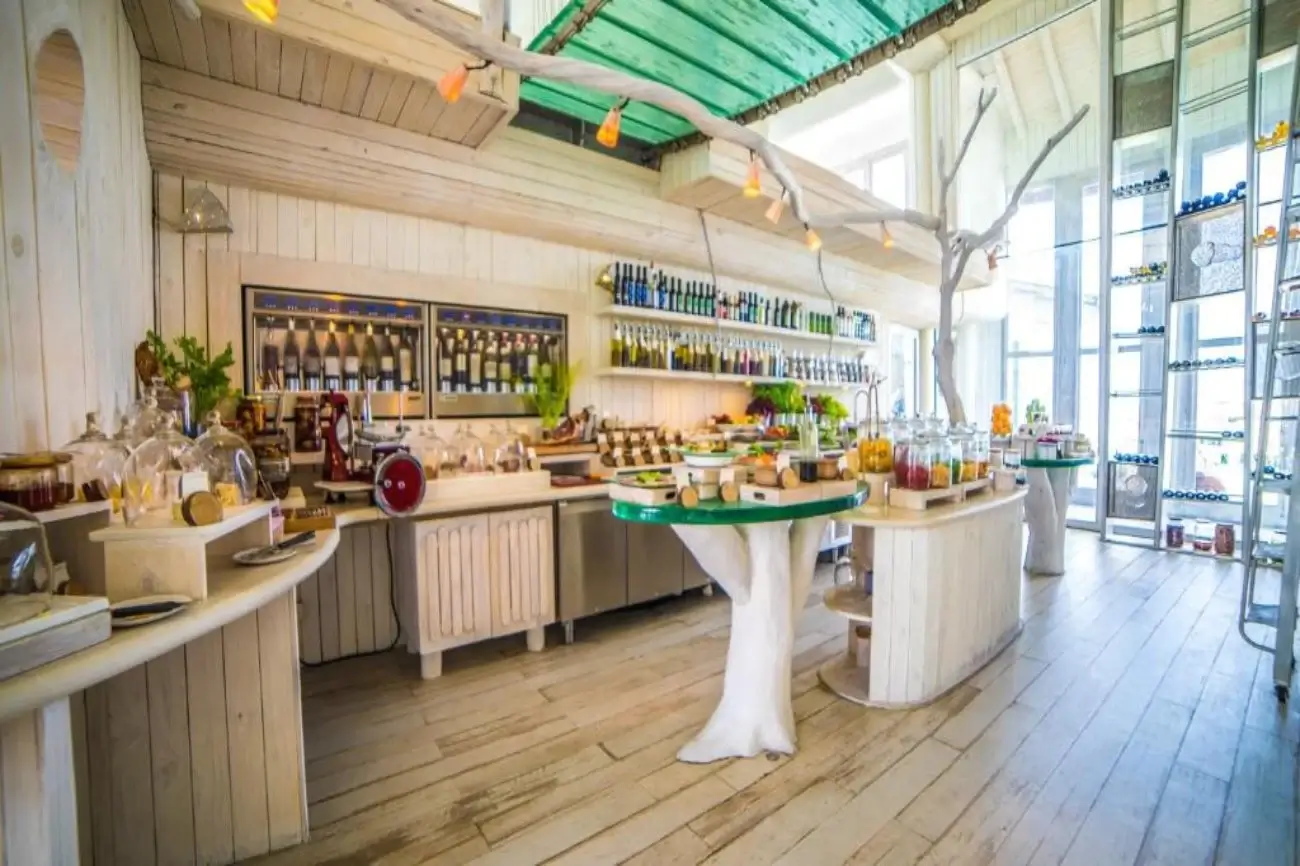 But it's not just the food that makes dining at Soneva Jani Maldives resort such a special experience. The resort offers a range of unique dining options, from intimate beachside dinners under the stars to gourmet meals prepared by your chef in the privacy of your villa.
Explore the Restaurants and bars of Soneva Jani Maldives
Savor exquisite culinary creations at Maldives Soneva Jani's award-winning restaurants, featuring fresh seafood, local Maldivian cuisine, and international fare. Indulge in signature cocktails and premium spirits at their atmospheric bars, with stunning ocean views and a relaxed island vibe.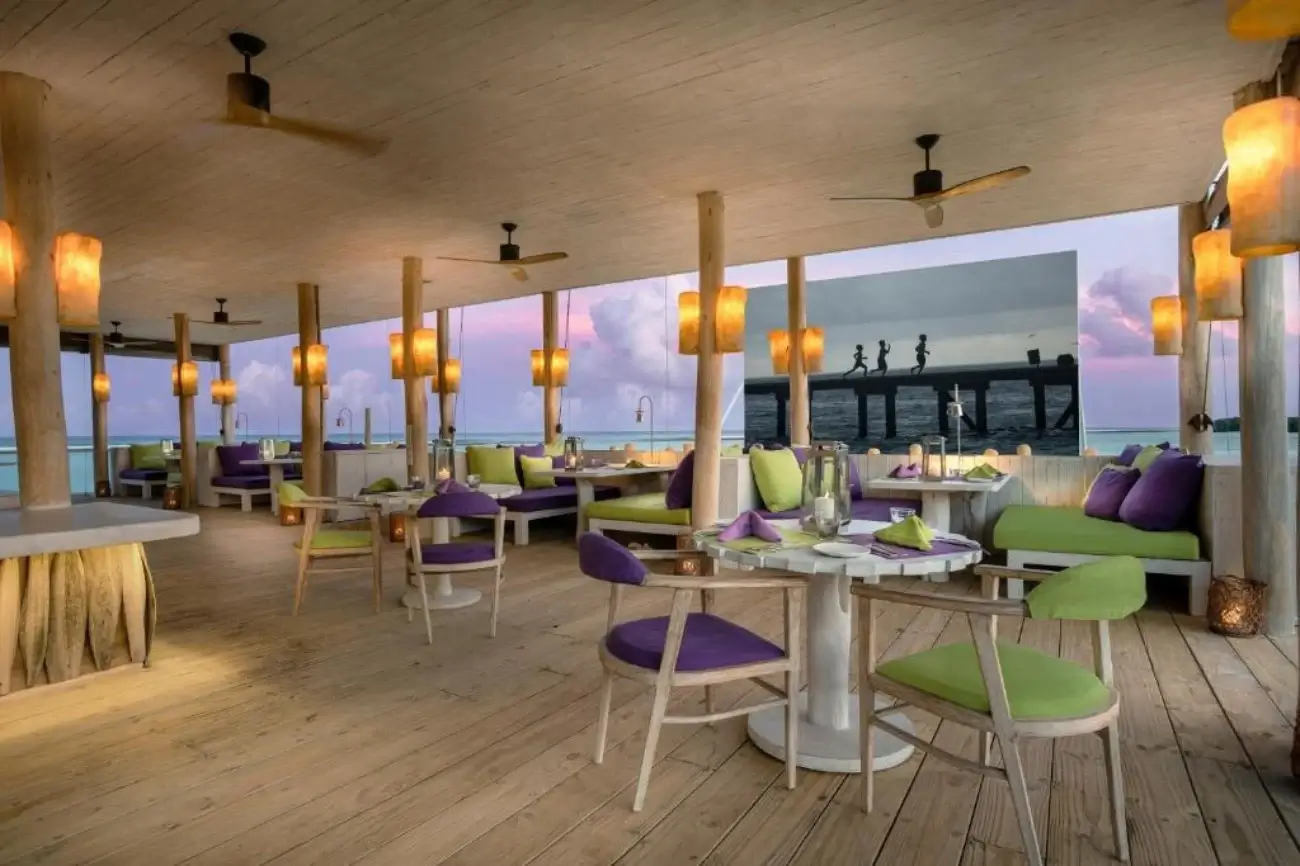 Soneva Jani resort in the Maldives has nine dining outlets between two sections of the island. Down To Earth offers breakfast, lunch, and dinner in various locations, while Overseas serves plant-based and pescatarian dishes. So Wild is a fully plant-based restaurant inspired by Ayurveda, and So Engaging is a chef's table offering a mystery menu for five guests. So Primitive uses different cooking techniques for seafood, meat, and plant-based dishes, while Chef Nikki's Japanese kitchen at Director's Cut serves Japanese favorites with a contemporary twist. The Crab Shack serves Sri Lankan Mud Crab curry and Alaskan crabs, and So Imaginative is a private room for up to 20 guests for celebrations. Finally, So Starstruck offers dining with an expertly crafted menu around the first overwater observatory in the Maldives.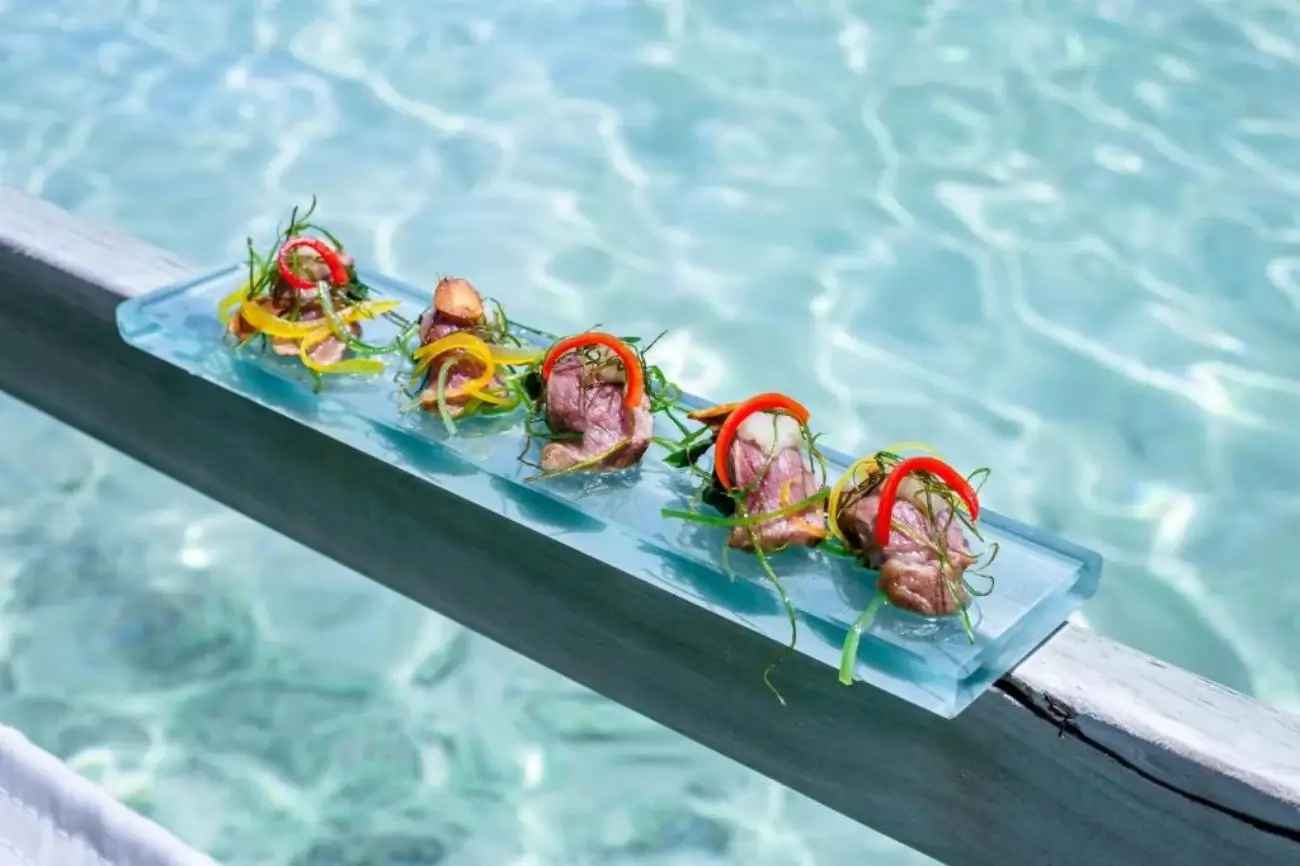 In addition, the resort offers a complimentary ice cream parlor and a fine wine selection.
Also, discover Nearby areas of Soneva Jani Maldives
Medhufaru Island, a small uninhabited island near Soneva Jani, offers pristine beaches and snorkeling spots to explore the Maldives' diverse marine life.

The Baa Atoll Biosphere Reserve, a UNESCO World Biosphere Reserve, located a short distance from Soneva Jani, is home to vibrant coral reefs, rare marine species, and a unique mangrove ecosystem to discover.
In conclusion, Soneva Jani Maldives is the ultimate destination for those seeking a luxurious, yet eco-friendly escape in the Maldives. With its stunning overwater villas, exceptional service, and unparalleled dining experiences, guests are treated to an unforgettable experience. 
Whether you're looking to relax on pristine beaches, explore the vibrant marine life, or indulge in a world of flavors, Soneva Jani has something for everyone. This tropical paradise is truly a once-in-a-lifetime destination that will leave you with memories to last a lifetime & this is one should be in the list of the  exclusives maldives package 2023
Looking to get a fantastic and Luxurious experience from Soneva Jani Maldives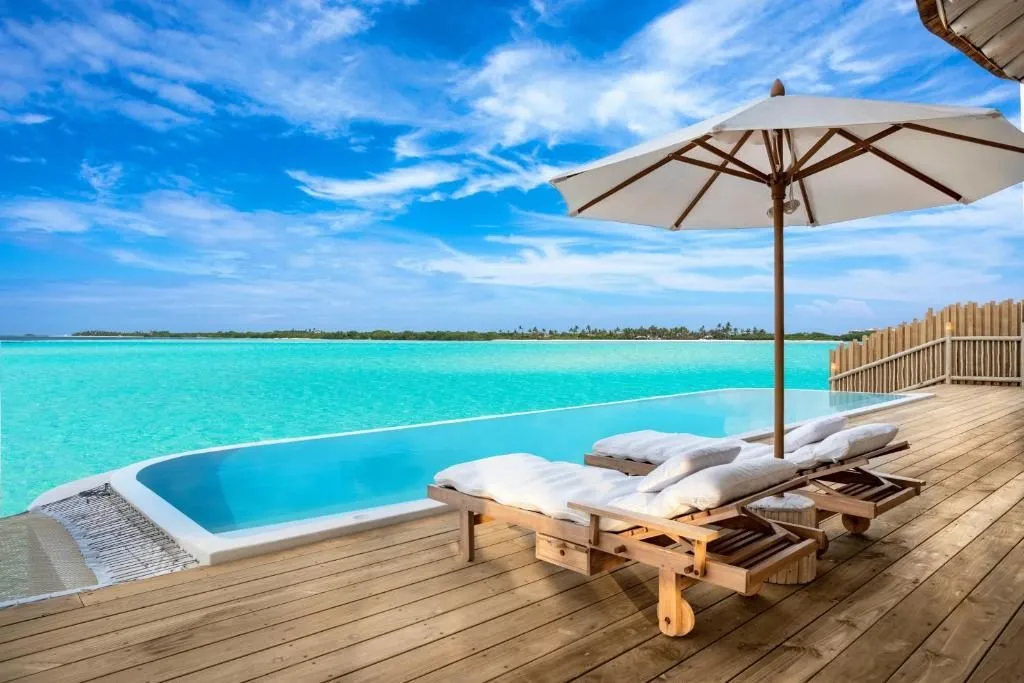 Frequently Asked Questions
Here are some frequently asked questions about Soneva Jani Maldives and its available services:
What is the difference between Soneva Fushi and Jani?
Soneva Fushi and Soneva Jani are two luxury resorts in the Maldives operated by the same brand. The main difference between the two is their location and overall design. Soneva Fushi is located on a larger, lush island with a rustic-chic design, featuring beautiful jungle foliage and stunning beaches. On the other hand, Soneva Jani Maldives is a more modern and sleek resort, located in a more secluded area and featuring stunning overwater villas with direct access to the crystal-clear lagoon below. Both resorts offer exceptional service, top-notch amenities, and unforgettable dining experiences, but each has its unique charm and appeal.
Does Soneva Jani Maldives have air conditioning?
Yes, Soneva Jani has air conditioning in all of its villas and public areas.
Which country is Soneva Jani in?
Soneva Jani is located in the Maldives, which is a small island nation in South Asia, situated in the Indian Ocean.
Is the Maldives close to Dubai?
The Maldives is located around 2,500 kilometers away from Dubai, and it takes around four hours to fly between the two destinations.
How to get Soneva Jani from Maldives airport?
Soneva Jani can be reached by seaplane, speedboat, or domestic flight followed by speedboat from Malé International Airport.
What is the nearest airport to Soneva Jani Maldives?
The nearest airport to Soneva Jani Maldives is the Malé International Airport.
Soneva Jani can be booked directly through their website or by contacting their reservations team via email or phone. Additionally, Soneva Jani can be booked through select travel agencies and tour operators.
What is the cost per night at Soneva Jani Maldives?
The cost per night at Soneva Jani Maldives price varies depending on the villa category and season, but it typically ranges from $3,000 to USD 20,000 per night.
Medhufaru Island, 20001 Noonu, Maldives 
Official Website:
https://soneva.com/resorts/soneva-jani/
Recent Travel Articles on Maldives
The Maldives is a tropical paradise in the Indian Ocean known for its beautiful beaches, clear blue waters, and luxurious resorts. Maldives is one of the priority destinations for Honeymooners…
Experience a magical stay at Soneva Jani Maldives, where luxury meets nature. When it comes to extreme Lavishness, the Soneva Jani Maldives is the first priority of all the people.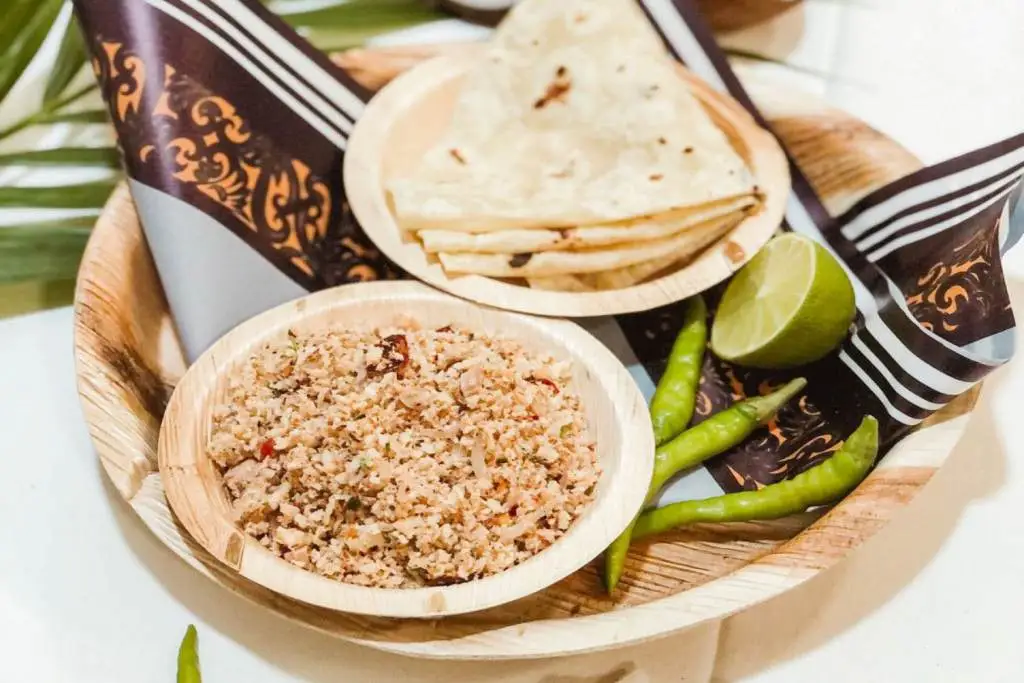 The Maldives are renowned for their stunning beaches and crystal-clear oceans, but they also have a delectable and distinctive cuisine that is greatly influenced by their geographical location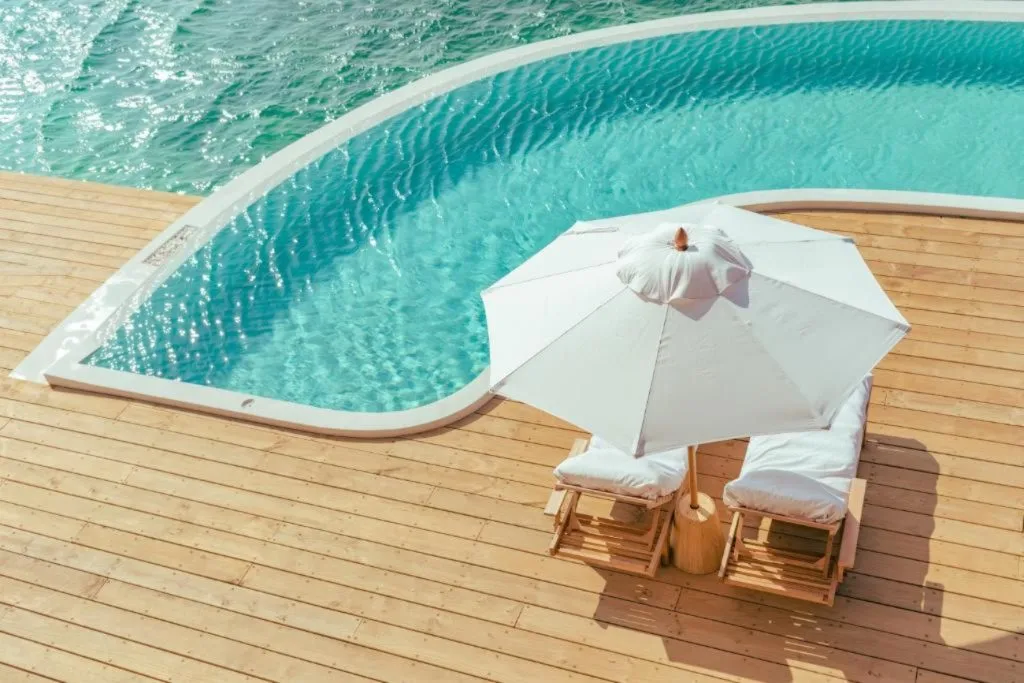 When it comes to honeymoon travel, there are many romantic destinations to choose from. Some of the best spots for honeymooners includes: Maldives, Bora Bora, Venice etc.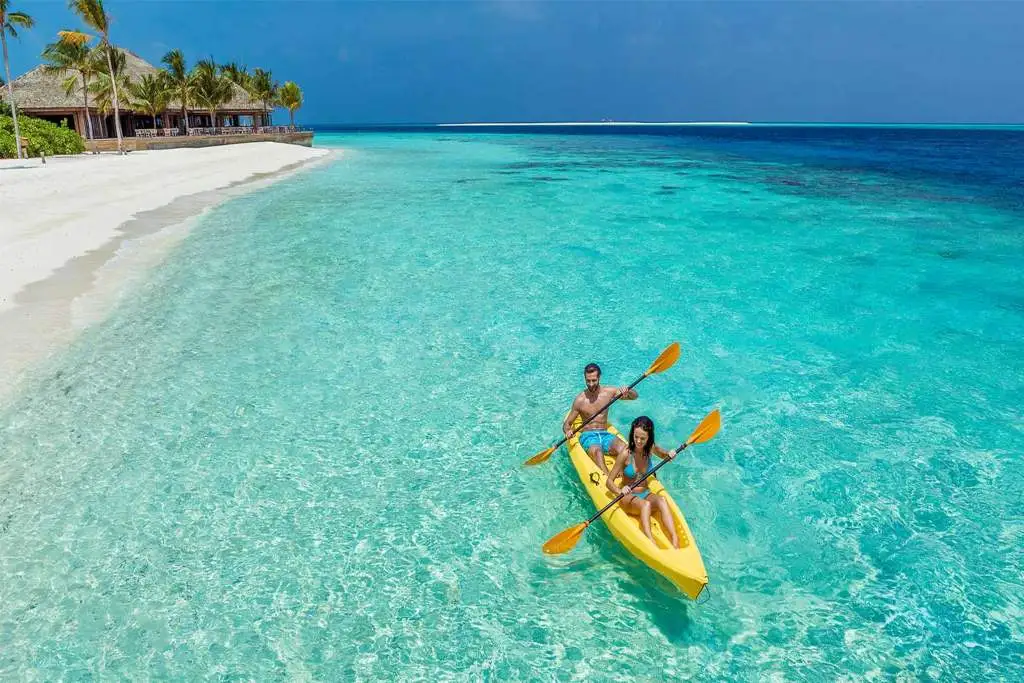 The Maldives is a cultural haven, with a rich and vibrant history that is reflected in its art, music, cuisine, and customs. The country's culture is deeply rooted in its Islamic heritage …