Europe is a continent with a bunch of history, amazing culture, and intense natural beauty. Whether you're interested in visiting famous landmarks, trying new foods, or exploring the outdoors, Europe travel has something to offer to everyone. Some popular Europe tour countries  and best places to visit Europe include Paris, London, Rome, Barcelona, Amsterdam, Berlin, and Vienna. Europe has an extensive transportation system that consists of trains, buses, and flights. Europe trip has a range of accommodation options, including hotels, hostels, and Airbnb rentals. It's important to get Europe visa, also take relievable Europe travel packages and follow in detail Europe travel restrictions and make sure to book in advance, especially during peak season, to avail the best deals for your trip. 
Your Europe trip will be memorable for its diverse and delicious cuisine. Be sure to try local specialties like croissants in France, tapas in Spain, pizza in Italy, and beer in Germany. Your Europe package will cover some of the most famous and beautiful landmarks in the world, such as the Eiffel Tower in Paris, the Colosseum in Rome, and the Tower Bridge in London. Be sure to visit these iconic landmarks and take plenty of photos. 
Europe is popular for its most beautiful natural landscapes in the world, the Swiss Alps, the Norwegian fjords, and the Mediterranean coast are some of the most famous names. Take a hike, go skiing, or don't miss these on your europe trip 
Europe is generally safe to travel, but it's important to be aware of your surroundings. Its highly advisable to take extra precautions to avoid theft and scams. Be sure to keep your things secure and do not carry large amounts of cash with you. Most importantly, have fun and enjoy your trip to Europe. It's an experience you'll never forget! And don't forget to drop your feedback on which European country has your heart?
Exclusive Promotional Europe Travel Packages from Pakistan
Popular Europe Trip from Pakistan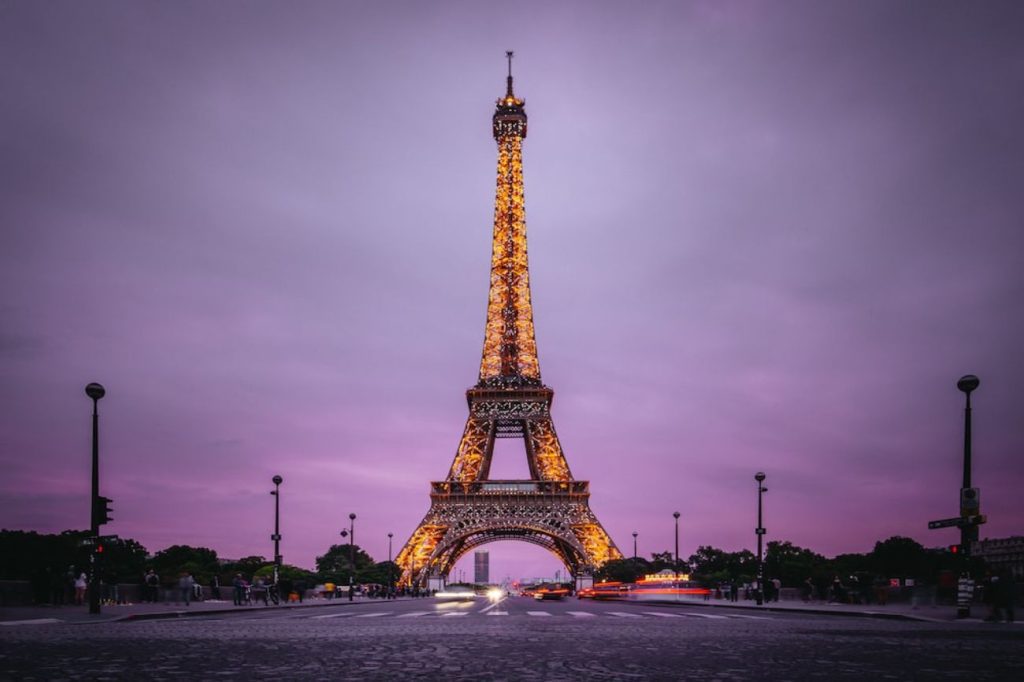 This trip to Europe from Pakistan Includes Airport transfers, accommodation, tours & International Flight Tickets
Europe for Travel Packages
Includes Meals & Transfer
Includes Meals & Transfer
Includes Meals & Transfer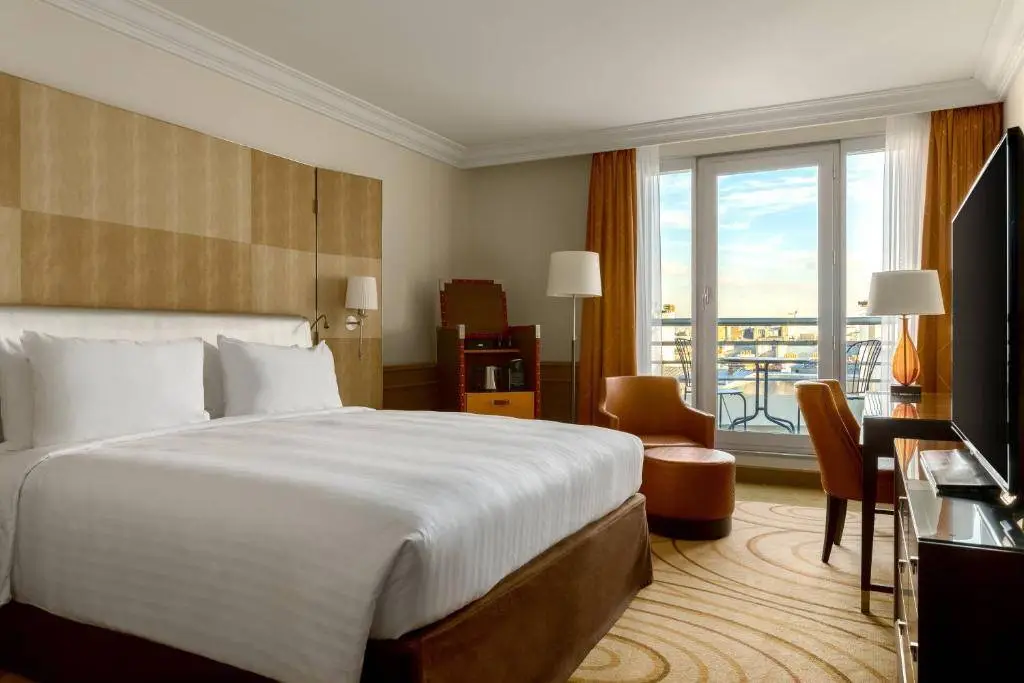 Includes Meals & Transfer
Best Accommodation for Europe Tour Packages
Nestled on the stunning Playa d'en Bossa, this hotel offers a stylish escape for music lovers and discerning travelers. Boasting a large open-air stage that hosts world-renowned concerts, the hotel provides an unparalleled entertainment experience. Free high-speed WiFi is available throughout the property,
Located in the charming Sestiere Santa Croce district, Papadopoli Venezia is a luxurious 4-star hotel just a stone's throw away from Piazzale Roma bus terminus and Santa Lucia Train Station. The hotel features free Wi-Fi throughout the building, making it easy to stay connected during your stay.
NH Collection Amsterdam Barbizon Palace is a luxurious hotel that effortlessly blends modern amenities with its historic charm. Nestled in the heart of Amsterdam, the hotel boasts a 15th-century chapel and an array of modern facilities, including a fitness area. Free WiFi is also available in the hotel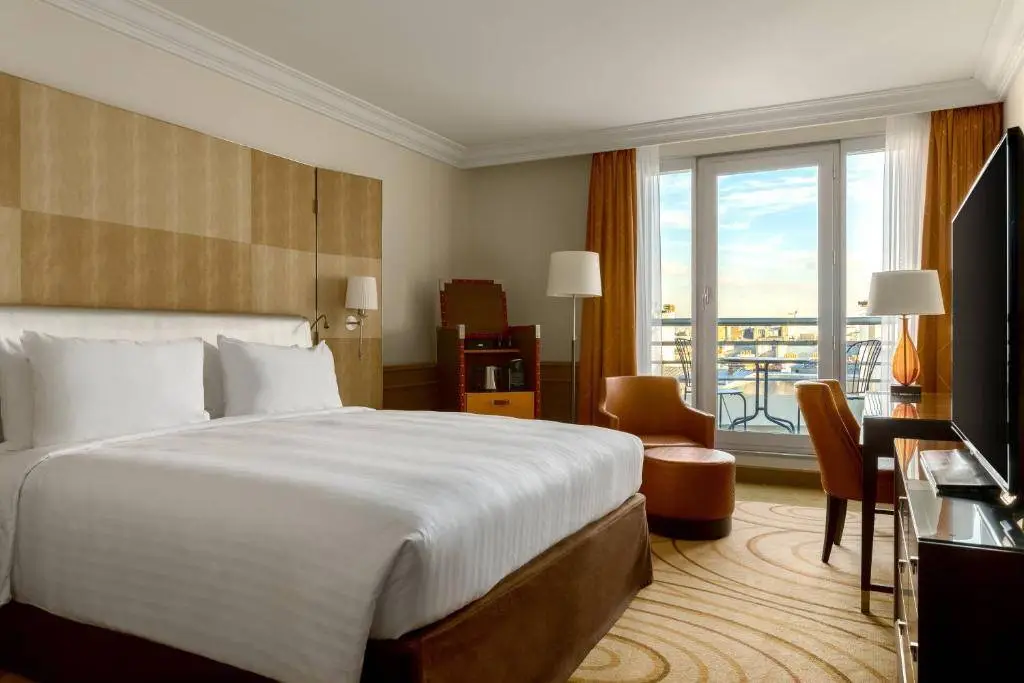 Nestled on the world-renowned Champs Elysees avenue, Paris Marriott Champs Elysees Hotel is just 700 meters away from the iconic Arc de Triomphe. The hotel boasts a fully-equipped fitness center and a relaxing sauna. Start your day with a delectable American breakfast prepared fresh every morning.
Best Time to Visit Europe
Generally, the best time to visit Europe is during the shoulder seasons of spring (April to May) and fall (September to October). During these months, the weather is mild and crowds are smaller, making it easier to enjoy popular attractions without dealing with long lines. Summer (June to August) is the peak tourist season in Europe, with warm weather and longer days. Winter (November to March) is the low season in Europe, with fewer tourists and lower prices with many outdoor attractions closed or have reduced hours. It's important to note that specific destinations may have their own peak seasons based on local events or attractions. 
So, the best time to visit Europe depends on your preferences and priorities. If you want to enjoy warm weather and outdoor activities, summer may be the best time for you. If you prefer smaller crowds and lower prices, consider traveling during the shoulder seasons or winter. In which season you will plan your Europe trip?
The culture of Europe is incredibly diverse and rich, with each country having its own unique customs, traditions, and heritage. The continent has a rich history that has left behind a legacy of art, architecture, music, and literature.
Religious traditions, such as Christianity, have played a significant role in shaping European culture, but secularism and atheism have also become more prevalent in recent years. Food, fashion, and festivals are also important parts of European culture, with each country having its own culinary specialties, fashion trends, and traditional celebrations. Overall, the culture of Europe is a fascinating and dynamic blend of the old and new, the traditional and modern.
Europe travel is going to be your most favorite tour!
Europe is known for its diverse and scrumptious cuisine, with each country having its own specialties. Here are some of the most popular foods to try in Europe:
Pizza and pasta in Italy – Italy is famous for its Margherita pizza and spaghetti carbonara. 
Croissants and baguettes in France – France is known for its delicious pastries, such as buttery croissants and crusty baguettes. 
Tapas in Spain – Spain is famous for its small plates of food called tapas, which can include dishes like patatas bravas, croquettes, and cured meats. 
Beer and sausages in Germany – Germany is famous for its delicious sausages, such as bratwurst and currywurst, as well as its wide variety of beers. 
Each country has its own unique cuisine, so be sure to explore and try new things during your Europe trip!!
Europe is a paradise for shopping lovers, a great range of options which is able for all tastes and budgets to buy. Many European cities are home to high-end fashion boutiques and luxury department stores, such as Harrods in London and Galeries Lafayette in Paris. However, there are also plenty of affordable shopping options, such as local markets and vintage shops. In addition to fashion, 
Europe is also known for its gourmet food shops, antique stores, and specialty stores selling artisanal crafts and products. Whether you're looking for designer clothing or unique souvenirs, Europe has something for everyone.
Have a best fascinating Europe trip!
Recent Travel Articles on Europe
Discover the Top 20 Best Beaches of Europe
If you get truly amazed by the beaches, your heart and soul get a kick of joy while visiting beaches, then there is no need to go anywhere else. Yes. We are here to introduce you …